Ultrasonic toothpaste for optimal results with the emmi-dent

Ultrasonic toothpaste as a transmission medium for micro-cleaning
The ultrasonic vibrations are not only transmitted via the ultrasonic attachment of the toothbrush and the saliva, but also via the special toothpaste enriched with
microbubbles
to the teeth, the gums as well as the palate and the tongue, where they can penetrate even into the smallest interstices and reduce impurities, germs as well as bacteria there.
Our ultrasonic toothbrush works 100% on the basis of sophisticated and patented ultrasonic technology. Micro-cleaning is used here, which takes place completely without movement and almost without contact. The usual scrubbing is a thing of the past when cleaning with ultrasonic toothbrushes. Instead, micro-cleaning is more effective with a toothpaste specially developed for this method. For this reason, you will only achieve emmi-dent For this reason, you will only achieve an optimal result with the ultrasonic toothbrush if you use a emmi-dent ultrasonic tooth paste.
Our ultrasonic toothpastes:
Fresh
- The emmi-dent Fresh ultrasonic toothpaste gives you a refreshing and clean mouth feeling. With its unique formula, it thoroughly and effectively cleanses reduced in combination with the emmi-dent reduces plaque and bacteria in combination with the ultrasonic toothbrush. The pleasant peppermint flavour ensures long-lasting fresh breath.
Nature
- The emmi-dent Nature ultrasonic toothpaste has been specially developed for those who prefer fluoride-free. It gently cleanses your teeth and gums. Enjoy a natural brushing experience.
Nature Calcium
- The emmi-dent Nature Calcium ultrasonic toothpaste is enriched with extra calcium to optimally strengthen your teeth. Nature Calcium is also free of fluoride. It provides you with a gentle cleaning while remineralising your tooth surfaces. Enjoy a natural brushing experience with added protection for your teeth.
Whitening -
The emmi-dent Whitening ultrasonic toothpaste is specially formulated to whiten your teeth and reduce discolouration. With its advanced formula, it gently removes surface stains (nicotine, red wine) and gives you a bright smile. Enjoy the feeling of clean and white teeth.
Kids
- The emmi-dent Ultrasonic Toothpaste Kids is designed to promote your children's dental health. With its mild taste and gentle cleaning, it provides a pleasant brushing experience. The child-friendly formulation helps to fight tooth decay and keep teeth strong and healthy.
Why ultrasonic toothpaste?
Combining ultrasonic toothpaste with the
emmi-dent ultrasonic toothbrush
provides an effective and innovative method of dental care. Here are some reasons why using
ultrasonic tooth
paste with the
emmi-dent ultrasonic toothbrush
is beneficial:
Effective cleaning: The ultrasonic toothbrush produces high-frequency vibrations that, together with the ultrasonic toothpaste, help to thoroughly reduce plaque and bacteria from the teeth. This combination allows for more effective cleaning.
Deep cleaning action: The ultrasonic waves of the emmi-dent reach even hard-to-reach areas such as interdental spaces and gum pockets. In combination with the ultrasonic toothpaste, it succeeds in thoroughly reducing stubborn plaque and impurities.
Gentle on the gums: The ultrasonic technology enables gentle cleaning of the gums without irritating or injuring them. This reduces the risk of gingivitis and bleeding gums.
Improve oral health: By thoroughly reducing plaque and bacteria, the combination of ultrasonic toothpaste and emmi-dent ultrasonic toothbrush helps improve oral health. It can help prevent tooth decay, gum disease, tartar, periodontal disease and bad breath.
Whiteningteeth: Some ultrasonic toothpastes, such as emmi-dent Whitening Toothpaste, contain special ingredients that help reduce discolouration on the teeth and achieve a bright smile.
The combination of emmi-dent toothpaste with the emmi-dent ultrasonic toothbrush thus offers an advanced and effective method of daily dental care that can lead to improved oral hygiene and a healthier smile.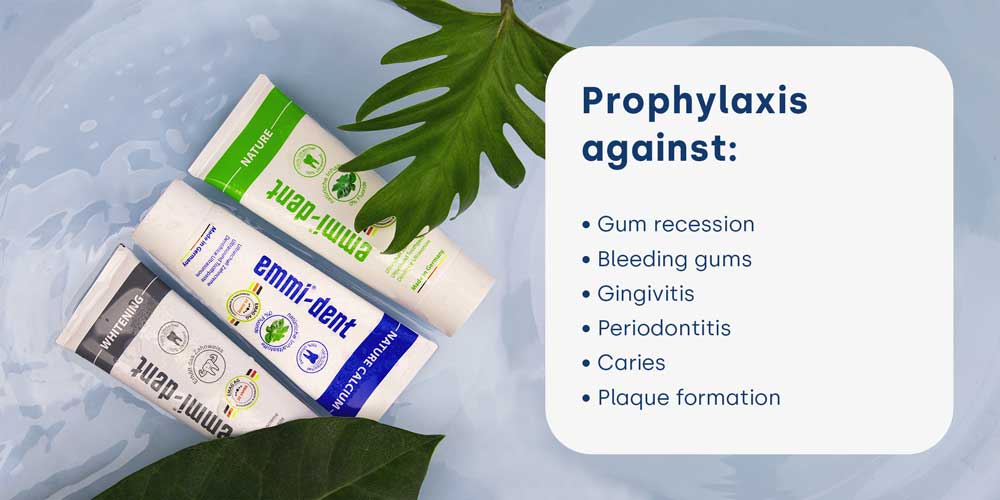 Toothpaste without abrasive particles
While you could do without toothpaste for oral hygiene with a conventional toothbrush if necessary, because the brushing motion alone does the cleaning, the special ultrasonic toothpaste is a must when micro-cleaning with the emmi-dent Ultrasonic toothbrushes not only prevent gingivitis and periodontitis, they are also ideal for people with sensitive gums and existing gum problems.