Brush your teeth without scrubbing!
The emmi-dent ultrasonic tooth brush is the latest generation of toothbrush or dental hygiene that uses ultrasonic waves to remove biofilm and reduce plaque and bacteria from teeth. Toothbrushes that use ultrasound have been revolutionising tooth brushing since 2013. The decisive advantage over classic manual toothbrushes or electric toothbrushes is that ultrasonic toothbrushes work almost contact-free and without mechanical movements. This makes cleaning particularly gentle and yet reliably thorough. In combination with a special ultrasonic toothpaste, you can even reach hard-to-reach areas effortlessly.
The result is a significantly improved oral hygiene that you can feel. Even after the first use, your teeth feel pleasantly smooth and clean - just like after a professional dental cleaning at the dentist!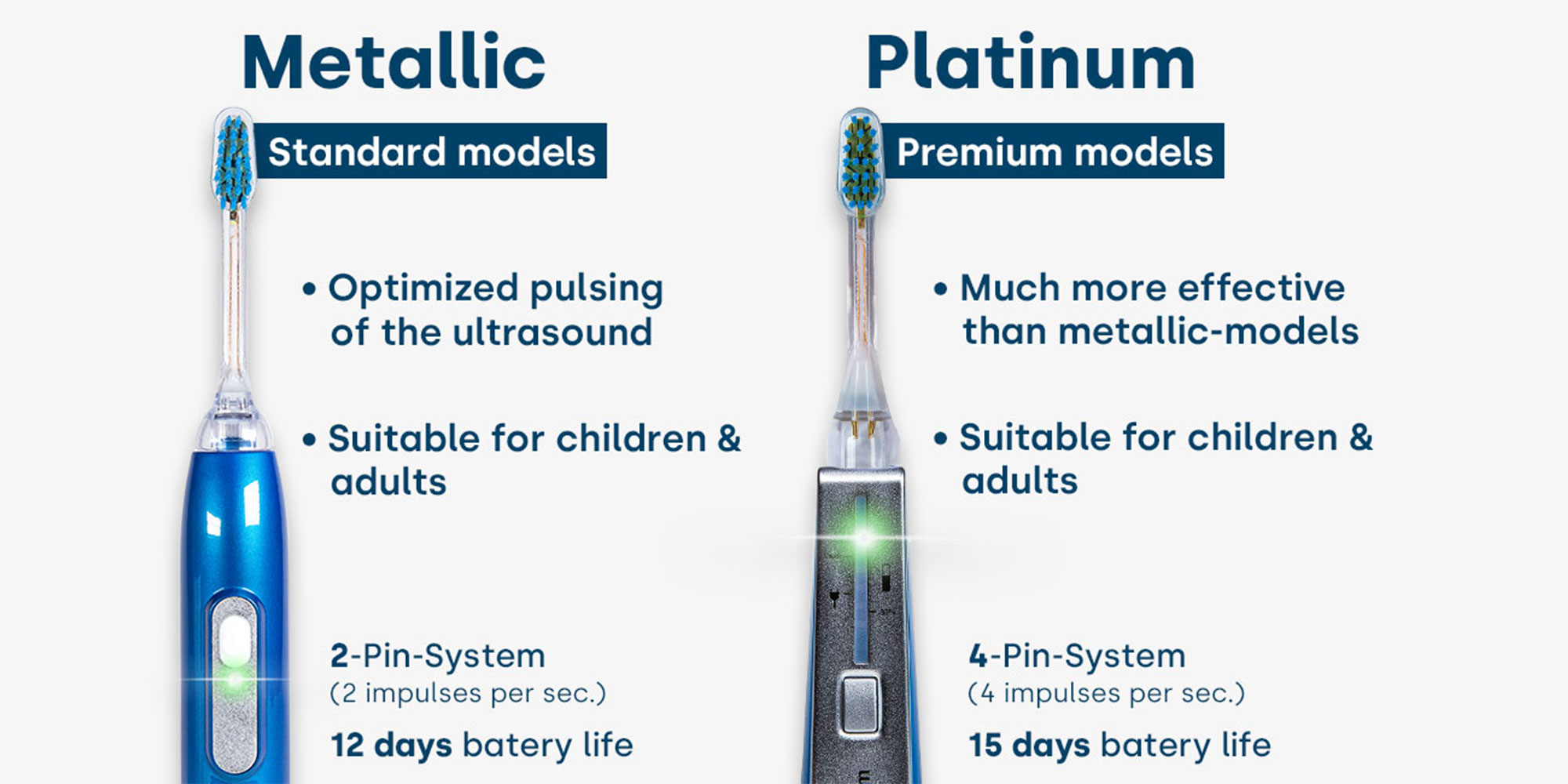 The emmi-dent ultrasonic toothbrush Metallic is the entry-level model of the ultrasonic toothbrushes with a 2-pin system. This means that the Metallic model generates 2 ultrasonic pulses per second, making it a state-of-the-art ultrasonic toothbrush that provides effective and gentle dental care. With the emmi-dent Metallic ultrasonic toothbrush, you are investing in high-quality dental care at a fair price.
The emmi-dent Platinum ult rasonic toothbrush is an electric toothbrush that is based on ultrasonic technology and is designed for particularly thorough cleaning of teeth and gums. Compared to conventional toothbrushes, the emmi-dent Platinum works at a frequency of up to 96 million multi-frequency oscillations per minute to tackle plaque and bacteria.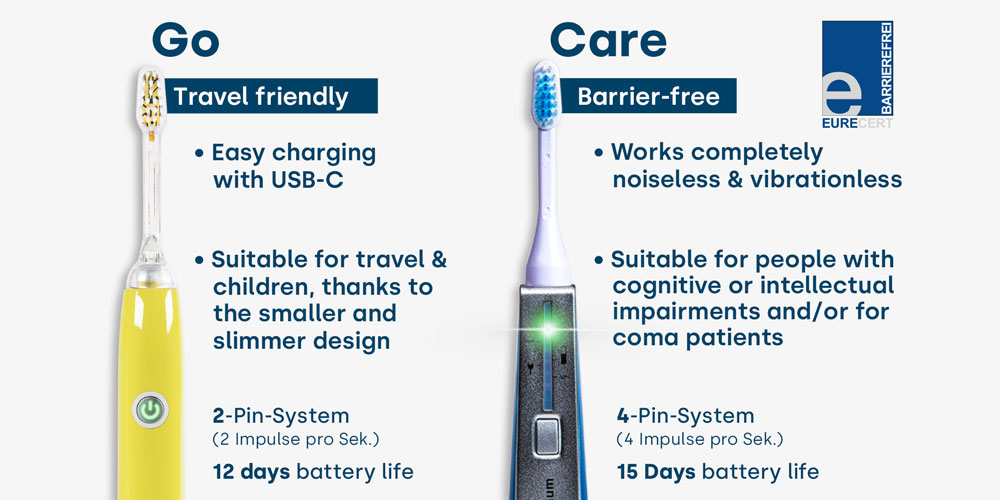 With our emmi-dent ultrasonic toothbrush GO, we have now brought our first ultrasonic toothbrush with USB-C connection to market. With this further development, our loyal emmi-dent customers remain flexible at all times. No longer being tied to the 230V mains to charge the ultrasonic toothbrush, that was our intention.
The emmi-dent Platinum Care ultrasonic tooth brush is not just another model in our toothbrush family. emmi-dent It is the efficient further development of our "Platinum" ultrasonic toothbrush, adapted to the needs of people with limited mobility. Our "Platinum Care" ultrasonic toothbrush promises revolutionary tooth brushing, thanks to the seal of approval it has been awarded for accessibility.
Technological progress for your dental health
The patented ultrasonic system ushers in emmi-dent ushers in a new era of dental hygiene. While the use of ultrasound for professional tooth cleaning was previously reserved for dentists, you can now buy the innovative technology in the form of an ultrasonic toothbrush for use at home. The toothbrush is very easy to use.
The hand-held device contains an ultrasound generator that produces a frequency of up to 96 million ultrasound vibrations per minute. If you move the ultrasonic toothbrush over your teeth without pressure and with a light touch for about 6 seconds per contact surface, the ultrasonic vibrations are transferred to the teeth via the bristles and a toothpaste optimised for ultrasound. There, millions of micro-bubbles are created in the micro-area, whose structure is destroyed by the ultrasonic waves, these collapse and generate a suction effect that is strong enough to remove the biofilm, minimise plaque and bacteria. And it does so thoroughly, right into the smallest interstices. Then simply rinse and you're done! With an ultrasonic toothbrush from emmi-dent ultrasonic toothbrush, you can enjoy the pleasant feeling of comprehensive dental care every day - without the need for time-consuming brushing or scrubbing.
Which is better: sonic or ultrasonic toothbrush?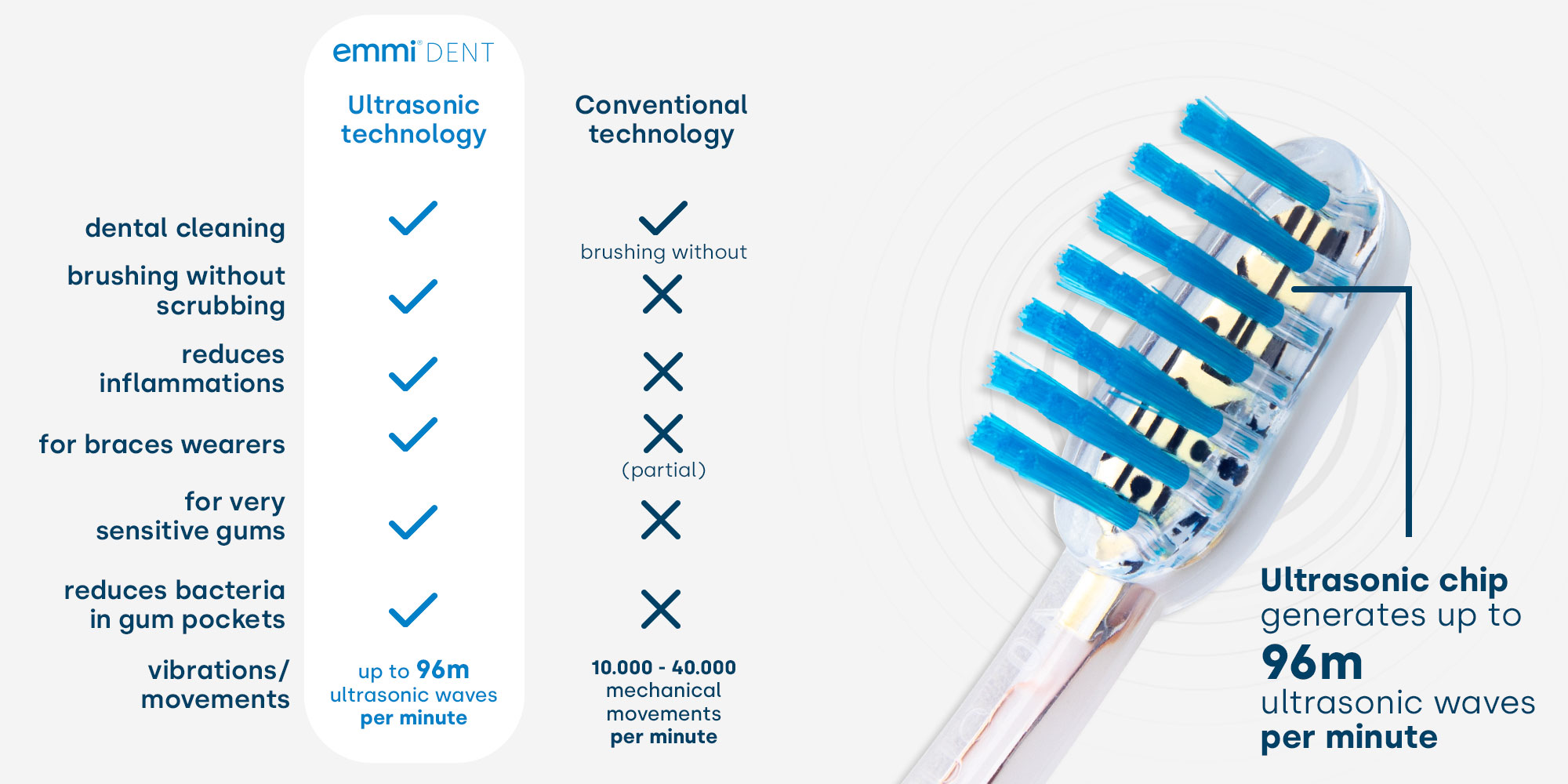 Although sonic toothbrushes have cleaning power, ultrasonic toothbrushes offer a more intense cleaning experience without harming tooth enamel. The frequency of the ultrasonic waves means that ultrasonic toothbrushes do not require mechanical movements as conventional electric toothbrushes. This means that there is no danger of accidentally "scrubbing away" tooth enamel if used incorrectly. The ultrasonic vibrations can penetrate deeper into the interdental spaces and along the gumline to remove biofilm, plaque and bacteria more effectively.
Ultrasonic toothbrushes also have the advantage of improving blood circulation to the gums, thus preventing gingivitis or assisting in the healing process. Thus, they can also help fight gum disease and reduce gingivitis. In addition, ultrasonic toothbrushes are either completely silent or quieter than conventional electric toothbrushes when vibration is turned on, making them more comfortable to use. Overall, ultrasonic toothbrushes are a superior choice over traditional electric toothbrushes when it comes to cleaning and caring for your teeth and gums. If you really want to keep your teeth clean and healthy, you should definitely invest in an ultrasonic toothbrush.
emmi-dent -Clinically tested by the University of Witten/Herdecke (studies)
Prof. Dr. Dr. h.c. Peter Gängler - Managing Director Oral Medical Institute at the University of Witten Herdecke:
"Unique tooth cleaning, without any brushing movement".
"Safely and thoroughly removes plaque biofilms"
"Completely prevents the risk of brushing damage to teeth and tooth necks"
"Especially recommended for sensitive teeth"
"Prevents gum injuries due to abrasion-free application"
"Promotes the reduction of gingivitis with regular use"
"Cleans your teeth thoroughly and is gentle on your gums - without brushing"
"No damage to the tooth enamel"
"Abrasion-free use eliminates damage to teeth and gums". emmi-dent Offers you a comfortable and motionless application in the entire oral cavity." (Study quote)


Buying an ultrasonic toothbrush: Is it worth it for me?
Basically, everyone benefits from professional oral hygiene with the ultrasonic toothbrush from emmi-dent. Only if you subject your teeth to a thorough daily brushing programme will you effectively prevent periodontitis, gingivitis, caries or other diseases of the teeth and gums. Emmi-dent ultrasonic toothbrush helps you to comfortably reach and effectively clean even narrow spaces and gum pockets. At the same time, the gentle micro-massage of the ultrasonic technology prevents you from applying too much pressure in the heat of the moment and damaging the gums or enamel. For this reason, buying an ultrasonic toothbrush is also highly recommended for people with sensitive teeth or gum problems. Incidentally, it proves to be an effective remedy against bad breath caused by bacteria. Thanks to the thorough brushing technique, bacteria no longer stand a chance. Ultrasound technology is also worthwhile for wearers of braces, implants, crowns or bridges. The vibrations easily penetrate areas that would otherwise be difficult to reach: they simply transport dirt away.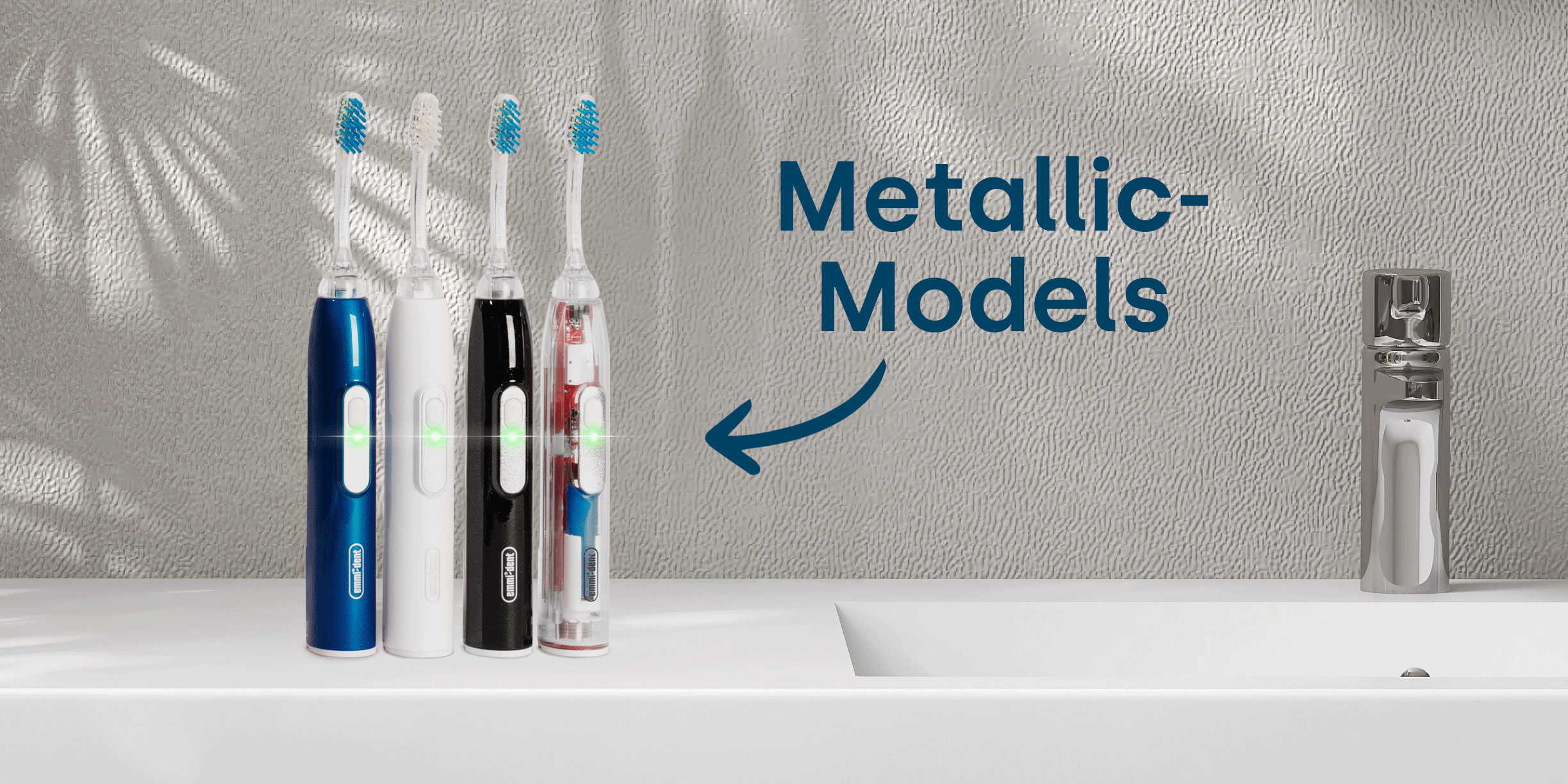 Get back your brilliant white smile
White teeth not only look great, but are also considered the symbol of perfect oral hygiene. However, the consumption of staining foods such as coffee, tea, wine or the nicotine contained in cigarettes often leads to unsightly discolouration, which gradually builds up on the surface of the teeth. There are various methods available to restore the natural whiteness of the teeth. However, chemical bleaching agents and toothpaste with a high silicate content and abrasive particles are not very beneficial to dental health. The aggressive substances attack the tooth enamel and provide an ideal breeding ground not only for bacteria but also for new discolourations - a vicious circle. An ultrasonic toothbrush brings back the original whiteness of your teeth in a particularly gentle way. Without mechanical abrasion or bleaching, discolouration is gently removed by contact-free micro-cleaning during daily tooth brushing. This gives you even more reason to smile in the future! Buying an ultrasonic toothbrush online is easy and convenient.
The innovative emmi-dent ultrasonic toothbrushes, matching toothbrush attachments, ultrasonic toothpaste and much more can be ordered conveniently online.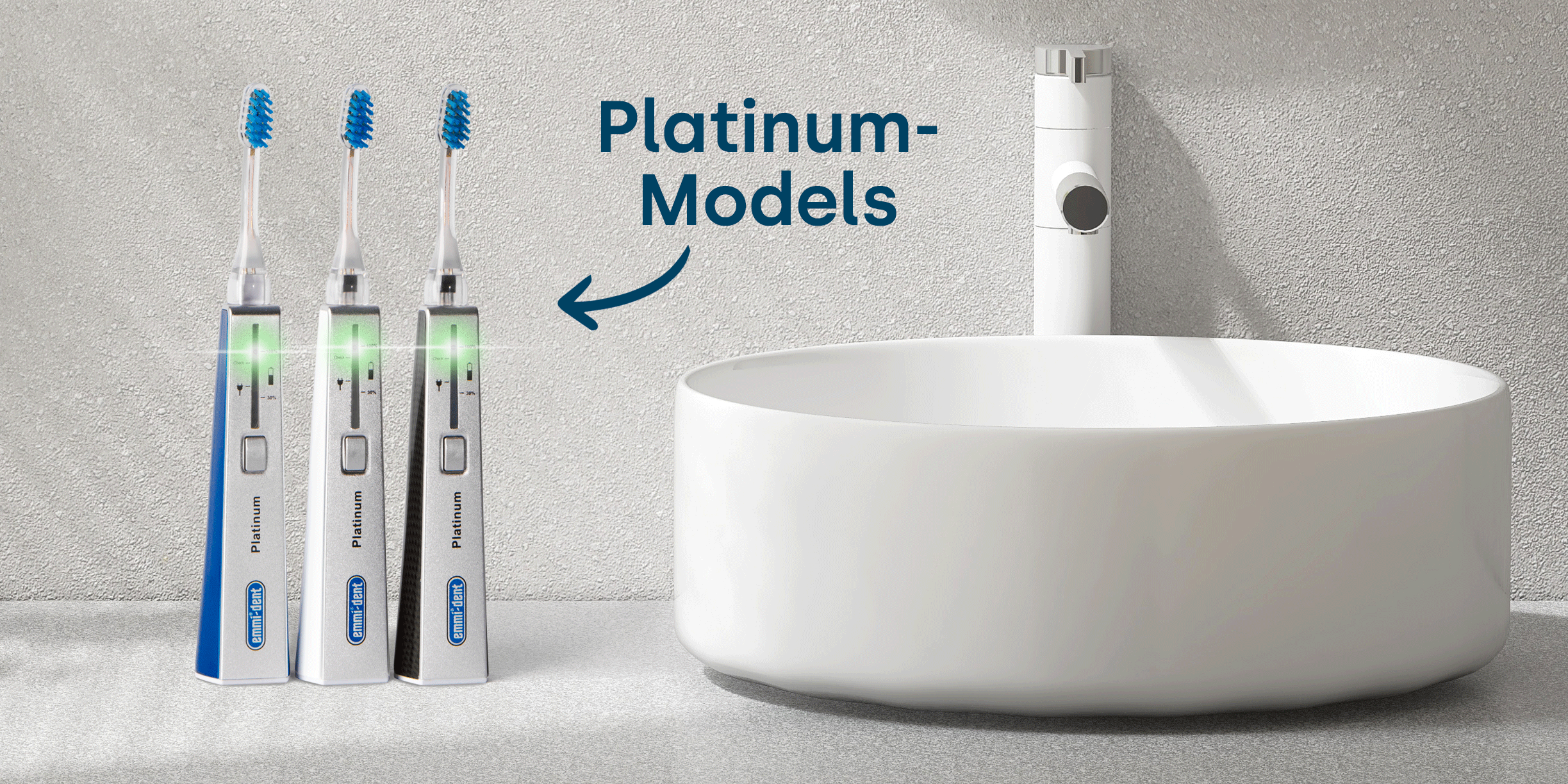 As an advantage customer, you also benefit from great discounts. Also discover our other products from emmi ultrasonic. For example, you will find a large selection of skin care products under the category emmi-skin.emmi-pet offers you a wide range of high-quality articles for your dog and the emmi-ultrasonic humidifiers ensure a pleasant climate in your home.