Ultrasonic Toothbrush Platinum
The premium model - 100% ultrasound

Test 30 days without obligation
Vibration can be switched off - 100% pure ultrasound
4-pin system - 4 pulses/sec - much more effective


Up to 96 million ultrasound vibrations/minute

15 days battery life (2x3 minutes daily)
Ultrasonic Toothbrush Platinum
Take a look at why our emmi-dent is so popular and effective.

The emmi-dent revolutionises the way you clean and care for your teeth. The emmi-dent Platinum is the latest generation of emmi-dent ultrasonic toothbrushes with a 4-pin system. This means that the emmi-dent Platinum generates up to 4 ultrasonic pulses per second.

The emmi-dent Platinum is an electric toothbrush based on ultrasonic technology and is designed to clean teeth and gums particularly thoroughly. Compared to conventional toothbrushes, the emmi-dent Platinum works at a frequency of up to 96 million multi-frequency oscillations per minute (without mechanical movements) to tackle plaque and bacteria.
Advanced cleaning for healthy teeth and gums
The emmi-dent Platinum ultrasonic toothbrush is an advanced toothbrush that uses state-of-the-art ultrasonic technology to provide thorough and gentle cleaning of teeth and gums.
Why emmi-dent Ultrasonic Toothbrush?
Compared to conventional electric toothbrushes, the emmi-dent Platinum Ultrasonic Toothbrush provides a deep and effective clean by using ultrasonic waves to reduce bacteria and plaque.
The emmi-dent Platinum ultrasonic toothbrush is highly recommended for people who need and prefer an especially thorough cleaning, for example in cases of gingivitis, periodontitis or other dental diseases. By using ultrasonic technology, the vibrations penetrate deep into the interdental spaces and gums to clean even hard-to-reach places, effectively preventing caries, plaque and gingivitis.
The structure of the microbubbles, which are enriched in an additional production step in the emmi-dent ultrasonic toothpastes, are destroyed by the ultrasonic waves and collapse in the interdental spaces and under the gum line, thereby creating a suction effect to loosen or reduce plaque and bacteria. The toothpaste, which has been specially developed for use with the emmi-dent Platinum, contains microbubbles that are activated by the ultrasonic waves of the toothbrush and allow for an even more thorough cleaning. The existence of the microbubbles has been confirmed by the Goethe University in Frankfurt am Main.
The emmi-dent Platinum is particularly suitable for people with sensitive teeth, people with implants, braces wearers and people with gingivitis, as the ultrasonic technology is gentle on teeth and gums. The emmi-dent Platinum has an exclusive Platinum design and features special ultrasonic attachment brushes (ordered separately) that are specially designed for use with the ultrasonic technology. These attachment brushes are particularly gentle on teeth and gums and provide a gentle yet thorough clean. Whether you have straight teeth(M2), odd teeth(M2 Wave), braces wearers(PM2) or children or people with small jaws(S2), emmi-dent has the right attachment brushes.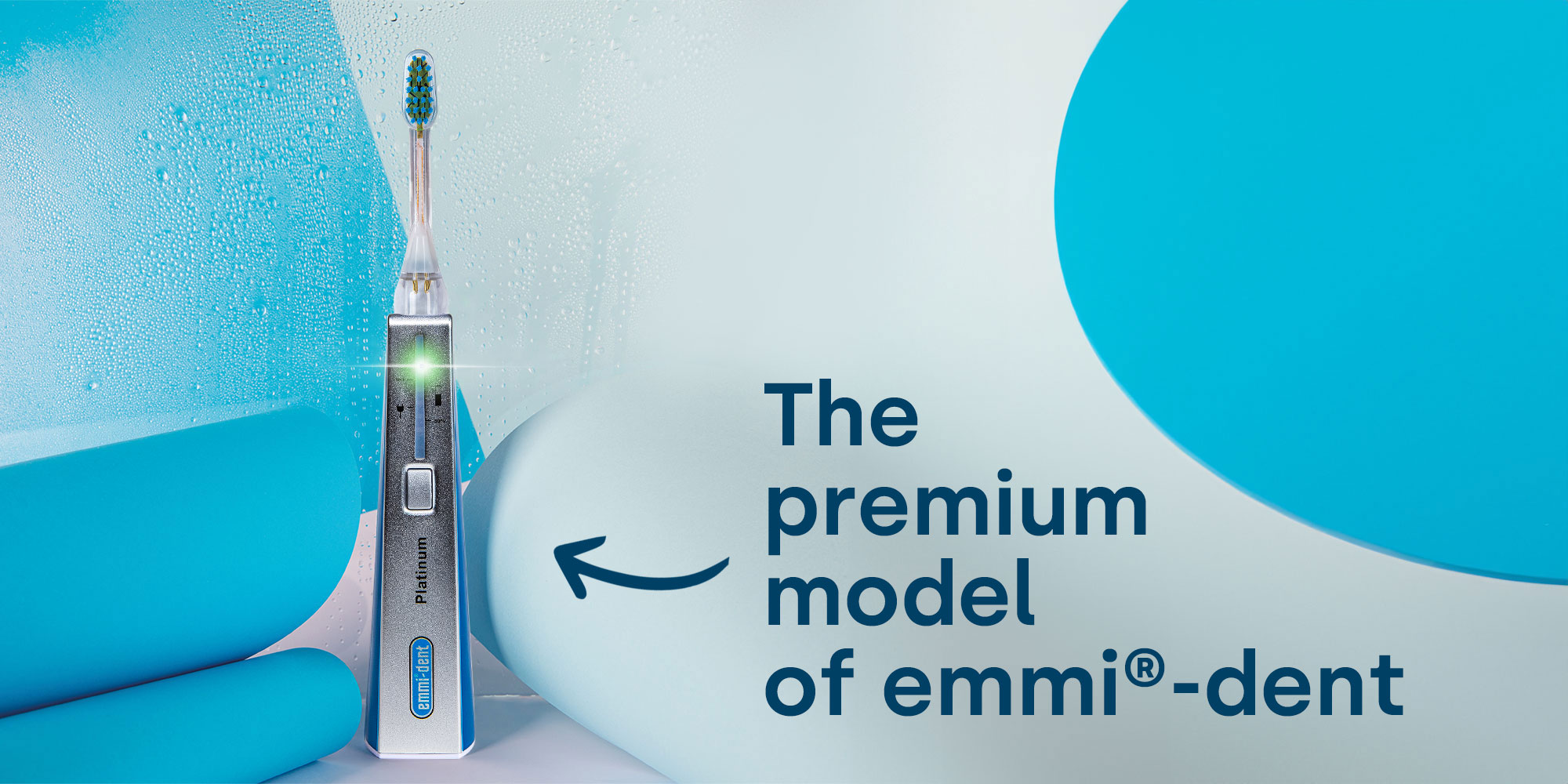 emmi-dent Ultrasonic toothbrush Platinum is especially suitable for:(according to clinical study)

For sensitive gums
Against gingivitis
Suitable for implants
For cleaning braces
For gum pockets
Prevention of periodontitis
Against bad breath and bacteria reduction
For plaque reduction
The ultrasonic toothbrush is easy to use and provides a personalised cleaning experience. In addition, the emmi-dent Platinum is an environmentally friendly choice as it produces less waste than conventional toothbrushes through the use of ultrasonic technology. emmi-dent is clinically tested by the University of Witten/Herdecke.(Click here for the studies)

"The abrasion-free application prevents damage to the teeth and gums. emmi-dent offers you a comfortable and motionless application in the entire oral cavity." (quote study)
To keep your teeth healthy and shiny, thorough cleaning of the spaces between your teeth is essential. In addition to the use of dental floss and interdental brushes, we at emmi-dent also offer special mouthwashes that provide deep cleaning and help reduce harmful bacteria. We therefore recommend that you make regular use of our aids and thus actively contribute to maintaining your dental health.
With the emmi-dent Platinum ultrasonic toothbrush, you are investing in your dental health and well-being. Using ultrasonic technology, a deeper and more thorough clean is achieved, which can help keep your teeth and gums healthier and stronger.
emmi-dent Ultrasonic toothbrushes convince in clinical tests
The functionality of ouremmi-dentultrasonic toothbrushes was tested in a clinical study by the University of Witten/Herdecke. Prof. Dr.h.c.P. Gängler, as managing director of the oral medical institute, evaluates the test of ouremmi-dentultrasonic toothbrushes with the following words: "Tooth cleaning by means of ultrasound and without brush movement removes plaque and biofilm safely and thoroughly. Brush damage to tooth necks, gums and teeth can be prevented thanks to this technology. Toothbrush especially suitable for people with sensitive teeth. The abrasion-free application ensures that gum injuries can be actively avoided. In addition, regular use actively promotes the decline of gingivitis."

emmi-dent- Clinically tested by the University of Witten/Herdecke(Click here for the studies).
Prof. Dr. Dr. h.c. Peter Gängler - Managing Director Oral Medical Institute at Witten Herdecke University:
"Unique tooth cleaning, without any brushing movement.

"Safely and thoroughly removes the biofilms of plaque"

"Completely prevents the risk of brushing damage to teeth and tooth necks"

"Especially recommended for sensitive teeth"

"Prevents gum injuries due to abrasion-free application"

"Promotes the reduction of gingivitis with regular use"

"Cleans your teeth thoroughly and is gentle on your gums - without brushing"

"No damage to the tooth enamel"



"Abrasion-free use eliminates damage to teeth and gums".emmi-dentOffers you a comfortable and motionless application in the entire oral cavity." (quote study)



In addition to daily dental care with ouremmi-dentultrasonic toothbrush, we still recommend that you care for your teeth with our dental floss, interdental brush or use a mouth rinse.
Basic scope of delivery:
1x emmi-dent Platinum handset - blue
1x emmi-dent 100-240 V charging station
1x emmi-dent M2 attachment (single and already attached)
1x emmi-dent Ultrasonic toothpaste - Fresh 75ml
additionally free of charge for you
1x emmi-dent M2 attachments (2 pieces per package)
emmi-dent Ultrasonic toothpaste "Fresh" 75ml
emmi-dent Fresh contains no gluten, no nanomaterials and is vegan.

Aqua - Water
Hydrated Silica - Silica gel (silicon dioxide)
Sorbitol - Sorbitol (sorbitol)
Propylene Glycol - Propylene Glycol
Tetraprotassium Pyrophosphate - Tetraprotassium Pyrophosphate
Xanthan Gum - Xanthan (E415)
Sodium C14-16 Olefin Sulfonate - Sodium C14-16 Olefin Sulfonate
Mentha Arvensis Leaf Oil - oil from the leaves of the field mint - flavouring agent
Sodium Fluoride - Sodium fluoride
CI 77891 - E171
Sodium Saccharin - Sodium Saccharin
Allantoin - Allantoin
Chamomilla Recutita Flower Extract - flavouring agent
Salvia Triloba Leaf Extract - flavouring agent
Sodium Methylparaben - Sodium Methylparaben
AROMA CONTENT: < 1% - FLUORIDE CONTENT: < 0.1% - ACKERMINT OIL CONTENT: < 1%

Gerhard (55 years old)
Mia (24 years old)
Sebastian (17 years old)
Hannah (16 years old)
---
Als absoluter Neuling bei dem Thema Ultraschallzahnbürste, bin ich mit der Reinigung sehr zufrieden. Sie schont nicht nur den Zahnschmelz, der ja leider mit dem Alter abnimmt, sondern entfernt nach mehrmaligem Anweden auch die lästigen Belege von Kaffee und Tee. Ich bin froh, mich für dieses System entschieden zu haben.
How to use the emmi-dent ultrasonic toothbrush correctly?
The specific mode of operation of the ultrasonic toothbrush influences its use. Conventional toothbrushes are moved over the rows of teeth and the biofilm is scrubbed away by mechanical movements. Our sophisticated ultrasonic technology works almost contact-free and, above all, without mechanical movements. Brushing your teeth without scrubbing is the motto here. Simply hold the brush head lightly on the teeth. In addition to the ultrasonic toothbrush, use a special ultrasonic toothpaste. 75 millilitres is enough for about four to six weeks of use.
The bristles of the emmi-dent usually cover two to three teeth. After a short stop - usually six seconds is enough - move the ultrasonic toothbrush to the next teeth. With all emmi-dent models (except emmi-dent Platinum Care - works completely noiselessly and vibration-free) you will receive a haptic (the vibration stops briefly after about 6 seconds) and acoustic (a soft beep) signal to move to the next tooth/teeth. Repeat this process until all teeth are cleaned. For heavy stains or discolouration, a longer cleaning time is recommended. As with all other toothbrushes, brushing should take at least three minutes. After the cleaning process, it is recommended to wipe the loosened dirt away from the gums, off the teeth and rinse with water.
The first application in 6 steps:
1: Charge the device for 24 hours.
2: Place the brush head on your emmi-dent.
3: Hold the brushes under running water.
4: Apply emmi-dent toothpaste to the bristles.
5: Switch on the appliance: the LED light is now green.
6: Here we go - hold each tooth or several teeth for 6 seconds and have fun brushing without scrubbing!
What distinguishes the emmi-dent Platinum from other toothbrushes?
Difference to conventional toothbrushes:
Electric toothbrushes include rotary toothbrushes as well as sonic toothbrushes and ultrasonic toothbrushes. While the former usually have round brushes that rotate alternately from left to right, sonic toothbrushes are equipped with elongated, vibrating heads. With 20,000 to 40,000 vibrations per minute, they achieve significantly higher mechanical movements than rotary brushes. Ultrasonic toothbrushing is a completely different technology. While rotary and sonic toothbrushes use mechanical movements to remove the biofilm, the emmi-dent GO works with up to 96 million ultrasonic vibrations per minute and requires no mechanical movements for tooth cleaning. Motionless tooth cleaning thanks to state-of-the-art ultrasonic technology or tooth brushing without scrubbing.
Thus, the decisive difference lies in the way the teeth are cleaned: Just like manual toothbrushes, rotary and sonic toothbrushes also clean the tooth mechanically. This so-called macro-cleaning involves a risk of injury to the gums and tooth enamel if the toothbrush is used improperly. In addition, ultrasound is able to minimise inflammation. This is confirmed by our study.
Dental care with conventional toothbrushes is limited to the areas in the mouth that the rotary or sonic toothbrush reaches. In contrast to conventional electric toothbrushes, the ultrasonic toothbrush works completely without pressure by transmitting vibrations. In this way, the entire oral cavity is comprehensively cleaned.
Difference to other ultrasonic toothbrushes:
The emmi-dent GO toothbrush differs from other ultrasonic toothbrush models by several important features and improvements. Here are the notable differences:
Improved ultrasonic efficiency:
The GO models use optimised clocking by integrating a 2-pin system. The clocking allows for a more efficient and powerful cleaning action that ensures thorough plaque reduction and oral hygiene.
Optimal battery life:
The emmi-dent GO has an optimal battery life. With regular use of 2-3 times per day, the GO can last up to 12 days before it needs to be recharged. This extended battery life (lithium-ion) provides comfort and uninterrupted use and eliminates the need for frequent recharging.
Vibration on/off option:
A special feature of the emmi-dent GO is the option to switch off the vibration at will. To do this, simply press and hold the on switch for approx. 10 seconds until the LED lights up 3 times. Now take your finger off the switch and switch on normally. Do you want to undo it? Simply go through the same process. The ability to turn off the vibration means that people who prefer vibration-free cleaning can also benefit from the ultrasonic technology.
Which attachments are needed for the emmi-dent Platinum?
The emmi-dent GO is an innovative ultrasonic toothbrush that uses patented ultrasonic technology for effective and gentle oral hygiene. While the emmi-dent GO itself is a complete system, it offers a range of attachments that can extend its functionality and meet specific dental needs. The ultrasonic attachment is a key component of the emmi-dent GO system. It emits ultrasonic waves that create microbubbles in the toothpaste, enabling a deep and gentle cleaning process. This attachment is essential to use the ultrasonic technology of the toothbrush.
Below are the five different attachments available for the emmi-dent GO:
Standard attachment brushes (E2 (2 pieces/package and E4 (4 pieces/package):
The ultrasonic attachment is a key component of the emmi-dent GO system. It emits ultrasonic waves that create micro-bubbles in the toothpaste for a deep and gentle cleaning process. This attachment is essential to use the toothbrush's ultrasonic technology. The bristles on these models are straight, making them perfect for people who have straight or slightly odd teeth.
Wave attachment brushes (E2 Wave):
The emmi-dent Wave attachment brushes are for people who need more accessible tooth cleaning in the interdental spaces. These attachment brushes have alternating short and long bristles that reach ideally between the teeth and along the gum line in the case of odd teeth. This makes it even easier to reach areas that are difficult to reach with a regular toothbrush.
Small attachment brushes (K2 and K4):
These attachments feature smaller bristles to effectively clean hard-to-reach areas. With their compact size and precise cleaning capabilities, the small attachments provide thorough oral hygiene for children and people with small jaws/mouths promote a healthy and clean mouth. They are the ideal choice for parents who want to give their children a gentle and effective cleaning experience, even in the most difficult areas of their mouth.
Clip-on brushes (SB2):
These attachment brushes are specially designed for effective cleaning of braces and ensure thorough oral hygiene. With their unique design, the braces attachments for the emmi-dent GO provide gentle and precise cleaning that is tailored to the special challenges of braces. They are an excellent addition for children and adults who wear braces, helping them to maintain a healthy and clean smile during their orthodontic treatment. By the way, the effective cleaning is also confirmed by a clinical study.
Tongue cleaner:
The tongue cleaner attachment is an optional accessory used with the emmi-dent GO. It is designed to effectively remove bacteria and debris from the tongue surface, contributing to improved oral hygiene and fresher breath.
It is important to note that the emmi-dent GO is only compatible with emmi-dent GO attachments specifically designed for this model. The use of attachments from other models (Platinum) will result in incompatibility.
Which toothpaste do I use for the emmi-dent Platinum?
The emmi-dent GO uses a special ultrasonic toothpaste that contains the necessary microbubbles, which are about 1000 times smaller than typical toothpaste bubbles. These microbubbles are added in an additional step in the production process to ensure an optimal cleaning experience - find the study on its existence here. Consider the five different toothpaste options available for emmi-dent and their respective benefits and properties.
Fresh:
The emmi-dent Fresh toothpaste has a refreshing peppermint flavor and leaves your mouth feeling invigorated after each use. This toothpaste is suitable for people who prefer peppermint taste in their oral hygiene. It is also important to note that Fresh toothpaste, like all emmi-dent toothpastes, is vegan, gluten-free and free of microplastics and nanomaterials.
Nature:
For those who prefer a toothpaste without fluoride and peppermint flavor, emmi-dent Nature toothpaste is an ideal choice. It offers a natural and gentle cleaning experience while maintaining the same high standards of a vegan, gluten-free and microplastic-free formulation.
Nature Calcium:
The emmi-dent Nature Calcium toothpaste is enriched with calcium and contains no fluorides. The toothpaste contains a mild menthol flavor that adds a subtle freshness to tooth brushing. The included calcium helps strengthen tooth enamel and promotes overall oral health and vitality.
Whitening:
If you want a visibly brighter smile, emmi-dent Whitening Toothpaste is an excellent choice. With regular use, this toothpaste delivers a gentle whitening effect and effectively removes surface discoloration. This is done without abrasion of the enamel, ensuring safe and effective whitening.
Kids:
The emmi-dent children's toothpaste is specially formulated to meet the dental needs of children and was developed with their oral health in mind. It provides gentle and effective cleaning and promotes healthy teeth and gums in a child-friendly way. Like all emmi-dent toothpastes, Kids toothpaste is vegan, gluten-free and free of microplastics and nanomaterials.
Does the emmi-dent Platinum remove tartar?
Good oral hygiene is important for healthy teeth and gums. It is important to clarify that the removal of tartar is reserved for the dentist in Germany. Although the emmi-dent Platinum toothbrush is not intended for removing existing tartar, it plays an important role in preventing tartar formation when used regularly and correctly. Read on to find out how the emmi-dent Platinum Toothbrush helps prevent tartar.
The role of the emmi-dent Platinum:
Tartar prevention is achieved through the emmi-dent Platinum's ability to interrupt the formation of plaque, the precursor to tartar. Plaque is a sticky film of bacteria and food particles that adheres to the teeth. If not removed, plaque can harden into tartar. The emmi-dent Platinum's ultrasonic technology destroys and eliminates plaque bacteria, reducing plaque build-up and minimising the likelihood of tartar formation.
Regular and correct use:
To maximise the benefits of the emmi-dent Platinum toothbrush in preventing tartar, it is important to use it regularly and correctly. This includes brushing at least once a day (preferably twice a day) for the recommended duration and ensuring that all tooth surfaces, including hard-to-reach areas, are thoroughly cleaned. Adherence to proper oral hygiene practices, such as flossing or oral irrigating and regular dental check-ups, complements the effectiveness of emmi-dent Platinum in preventing tartar.
Is the emmi-dent Platinum suitable for children?
When it comes to children's oral hygiene, choosing the right toothbrush is crucial. The emmi-dent Platinum is a very suitable choice for children with its child-friendly functions and special accessories.
Child-friendly functionality:
The emmi-dent Platinum is designed to be user-friendly and safe for children. The gentle ultrasonic technology provides an effective and non-invasive cleaning experience. The toothbrush has been designed with the comfort and sensitivity of sensitive mouths in mind, making it suitable for people of different ages.
Special children's toothpaste:
To complement emmi-dent Platinum for children, there is a special children's toothpaste. This toothpaste has been specially developed for the needs of children's dental health. It provides a gentle but effective cleaning experience that ensures plaque removal and caries prevention. The children's toothpaste is also designed to have a pleasant taste that encourages children to enjoy their dental care routine.
Special attachment brushes:
In addition to child-friendly toothpaste, emmi-dent offers special attachment brushes that are designed to meet the dental needs of children. These attachments are designed to improve the cleaning process and effectively reach all areas of a child's mouth. Even the hard-to-reach areas.
Alternative option: emmi-dent GO
If a child is not comfortable with the design of the emmi-dent Platinum, an alternative option is the emmi-dent GO. This model offers the same advantages of ultrasonic cleaning in a compact and portable design. The emmi-dent GO can be an excellent choice for children who prefer a smaller toothbrush that is easy to handle.
When it comes to ultrasonic toothbrushes, misconceptions and myths often lead to concerns about their safety. However, it is important to clarify that ultrasonic toothbrushes are not dangerous. Rather, they offer numerous benefits without any health risks or side effects. Let's dispel the misconceptions and shed some light on the benefits of ultrasonic toothbrushes for dental care.
No health risks or disadvantages:
Contrary to popular belief, ultrasonic toothbrushes are safe for human health. Extensive research and studies have shown that the use of ultrasonic toothbrushes does not cause any harmful effects or health disadvantages. Original ultrasonic toothbrushes, such as our emmi-dent models, are specifically designed to clean teeth thoroughly, gently and sustainably without compromising oral health.
Effective in combating dental diseases:
One of the most important benefits of ultrasonic toothbrushes is their ability to effectively prevent common dental diseases and gum problems such as gingivitis and periodontitis. The ultrasonic technology used by these toothbrushes helps to curb and even stop the progression of these oral health problems. The ultrasonic waves penetrate deep into the gums and hard-to-reach areas, ensuring a comprehensive clean that contributes to optimal dental hygiene.
Effectiveness in hard-to-reach areas:
The advanced technology of ultrasonic toothbrushes makes them particularly effective at cleaning hard-to-reach areas of the mouth. These include areas around orthodontic appliances, dental bridges and implants. The ultrasonic waves penetrate these areas and ensure that all surfaces are thoroughly cleaned, promoting overall oral health and hygiene.
What do dentists say about the emmi-dent ultrasonic toothbrush?
The ultrasound technique has proven itself in professional tooth cleaning at the dentist. A "hard" ultrasound is used here, which has a low frequency at high power. Dentists have been using this method successfully for many years to remove tartar and other impurities. The ultrasonic toothbrush also enables the daily use of ultrasonic technology at home. The innovative emmi-dent uses a "soft" ultrasound with high frequency and low power.
Professional daily dental care for everyone, everywhere - this is welcomed by dentists such as Dr. Dr. Roland Streckbein, head of the Institute for Dental Implantology (IZI) in Limburg an der Lahn, who describes ultrasound as the "ultimate in efficient and contemporary dental cleaning".
Dr. Annick Urfels - paediatric dentist/University of Liège: "Therefore, it is an advantage that the emmi-dent frees our teeth from biofilm and plaque without "scrubbing", because its simple application shows that the teeth feel smoother, and even after about 2 weeks there is no more bleeding of the gums."
Dr. Alexander May - Dentist: "The emmi-dent leads to a significant reduction in gingivitis and prevents completely abrasive brushing movements. This eliminates the risk of abrasion damage to teeth and gums."