Ultrasonic Toothpaste - "nature"
Ultrasonic Toothpaste - "nature"
Natural care for a radiant smile without fluoride!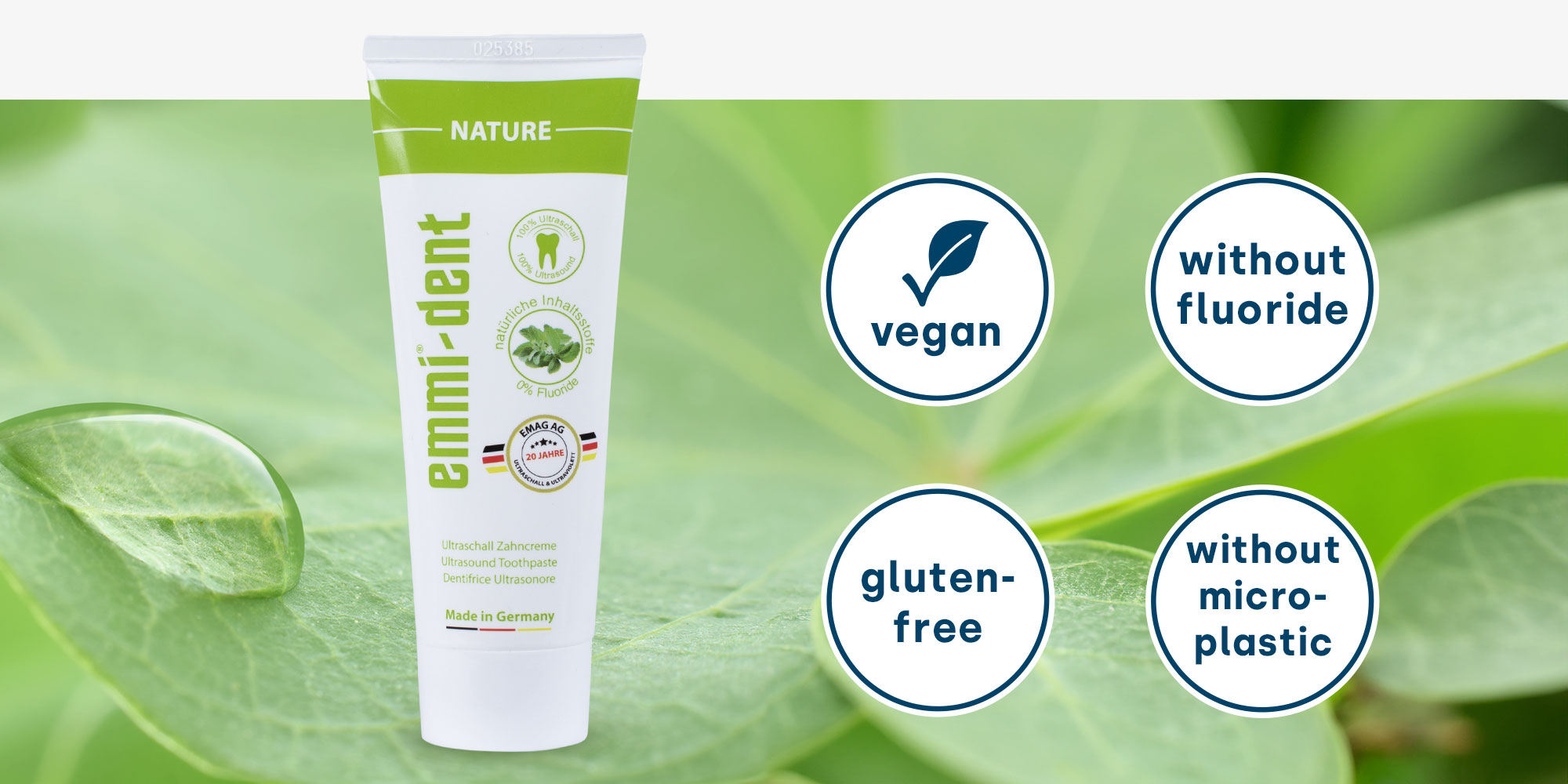 Discover emmi-dent Nature Ultrasonic Toothpaste, a natural and fluoride-free dental care that supports your radiant smile in a whole new way. This unique product description focuses on the outstanding features and benefits of this toothpaste to inspire potential customers:
Natural care for a healthy smile
emmi-dent Nature Ultrasonic Toothpaste offers you natural and gentle care that cleans and protects your teeth in a gentle way. You can rely on a toothpaste that is free of fluoride and still ensures effective cleaning. Enjoy the good feeling of natural dental care for a radiant smile.
Effective plaque removal for clean teeth
The ultrasonic technology in emmi-dent Nature toothpaste ensures that your teeth are thoroughly cleaned. Even stubborn plaque is gently removed to leave your mouth feeling clean and healthy. Experience the feeling of flawlessly clean teeth and show off your radiant smile with confidence.
Gentle care for sensitive teeth
emmi-dent Nature Ultrasonic Toothpaste is the ideal choice for people with sensitive teeth. Thanks to its gentle formula, you can clean your teeth gently and protect sensitive areas. Let this toothpaste, which is specially formulated to meet the needs of sensitive teeth, accompany you and provide long-lasting comfort.
Natural ingredients, exceptional quality
At emmi-dent, we place great emphasis on quality and naturalness. Our Nature Ultrasonic Toothpaste contains carefully selected natural ingredients that effectively care for and protect your teeth. Put your trust in emmi-dent and enjoy the benefits of high-quality dental care without fluoride.
As shown below, you can see a detail of emmi-dent toothpaste taken at high magnification. It shows very clearly the presence of so-called microbubbles, a microbubble itself is about a hundred times smaller than a plaque bacterium. Click here for the official confirmation of the Goethe University Frankfurt am Main.
Experience the power of nature for your radiant smile.
With emmi-dent Nature Ultrasonic Toothpaste, you combine the natural power of the ingredients with an enchanting smile. Experience the benefits of fluoride-free dental care and enjoy healthy and beautiful teeth. Order now and discover the unique care that emmi-dent Nature offers you.
Take this opportunity to experience natural dental care without fluoride with emmi-dent Nature ultrasonic toothpaste. Order today and enjoy the benefits of nature-conscious care for your radiant smile.
Scope of delivery:
1x emmi-dent Ultrasonic toothpaste - "nature" - 75ml
Ingredients:
Water - Water
Hydrated Silica - Silica gel (silicon dioxide)
Sorbitol - Sorbitol (Sorbitol)
Propylene Glycol - Propylene Glycol
Sodium C14-16 Olefin Sulfonate - Sodium C14-16 Olefin Sulfonate
Aroma - Aroma
CI 77891 (Titanium Dioxide) - Titanium Dioxide
Cellulose Gum - Cellulose
Stevia Rabaudiana Extract - Stevia extract (sweet herb) - flavouring agent

emmi-dent Nature contains no fluorides, no parabens, no gluten, no nanomaterials.

How does the emmi®-dent ultrasonic toothbrush work?
emmi®-dent ultrasonic toothbrushes clean without mechanical movements. The patented piezo ceramic disc (ultrasonic generator) is located in the brush head of the emmi®-dent ultrasonic toothbrush. In the intelligent brush head, electrical energy is converted into ultrasonic waves that are transmitted to the teeth and gums via the bristles, with the help of special ultrasonic toothpastes and saliva. This causes the ultrasonic transducer to vibrate (up to 96 million multi-frequency vibrations). These ultrasonic waves destroy the structure of the microbubbles enriched in the toothpaste, they collapse and a suction effect is created. This suction effect removes the biofilm and plaque. The standard process of brushing teeth.
The ultrasound is neither audible nor perceptible. Nevertheless, in combination with a special ultrasonic toothpaste, it creates millions of tiny microbubbles. Thanks to their small size, they penetrate even the smallest interdental spaces, where they collapse and create a suction effect. This loosens impurities such as biofilm and plaque. The vibrations of the ultrasonic toothbrush transport the loosened dirt out of the interdental spaces. Then you simply rinse it out. The result is healthy, sustainably cleaned and smooth teeth.
What distinguishes ultrasonic toothbrushes from normal electric toothbrushes?
Electric toothbrushes include rotary toothbrushes as well as sonic toothbrushes and ultrasonic toothbrushes. While the former usually have round brushes that rotate alternately from left to right, sonic toothbrushes are equipped with elongated, vibrating heads. With 20,000 to 40,000 vibrations per minute, they achieve significantly higher mechanical movements than rotary brushes. Ultrasonic toothbrushes surpass this performance many times over and are also a completely different technology. While rotary and sonic toothbrushes use mechanical movements to remove the biofilm, the emmi®-dent works with up to 96 million ultrasonic vibrations per minute and does not require any mechanical movements for tooth cleaning. Motionless tooth cleaning thanks to state-of-the-art ultrasonic technology
Thus, the decisive difference lies in the way the teeth are cleaned: Just like manual toothbrushes, rotary and sonic toothbrushes also clean the tooth mechanically. This so-called macro-cleaning involves a risk of injury to the gums and tooth enamel if the toothbrush is used improperly. In addition, ultrasound is able to minimise inflammation. This is confirmed by our study.
Dental care is limited to the areas in the mouth that the rotary or sonic toothbrush reaches. In contrast to conventional electric toothbrushes, the ultrasonic toothbrush works completely without pressure by transmitting vibrations. In this way, the entire oral cavity is comprehensively cleaned.

Who is the emmi®-dent ultrasonic toothbrush suitable for?
Our emmi®-dent ultrasonic toothbrushes are basically suitable for all people who want to clean their teeth gently and, above all, eliminate the risk of "scrubbing away" the enamel. Particularly suitable for people with sensitive gums, gingivitis and periodontitis, braces wearers, wearers of implants and bridges, We offer ultrasonic toothbrushes for all ages. Our range includes different brush heads, including an attachment for children and people with a small mouth. This makes dental care child's play for the youngest.
Older people and people with motor challenges also benefit from the simple operation of the ultrasonic toothbrush. The emmi®-dent Platinum Care is recommended here. Awarded the EURECERT certificate! The world's first barrier-free certified toothbrush.
The ultrasonic toothbrush also remedies bad breath by reducing bacteria to a healthy level.
We have developed a special brush head for braces wearers. The ultrasonic vibrations thoroughly clean even the inaccessible areas between teeth and braces. People with dental implants also benefit from the maximum cleaning power of the innovative ultrasonic technology.
What do dentists say about the emmi®-dent ultrasonic toothbrush?
The ultrasound technique has proven itself in professional tooth cleaning at the dentist. A "hard" ultrasound is used here, which has a low frequency at high power. Dentists have been using this method successfully for many years to remove tartar and other impurities. The ultrasonic toothbrush also enables the daily use of ultrasonic technology at home. The innovative emmi®-dent uses a "soft" ultrasound with high frequency and low power.
Professional daily dental care for everyone, everywhere - this is welcomed by dentists such as Dr. Dr. Roland Streckbein, head of the Institute for Dental Implantology (IZI) in Limburg an der Lahn, who describes ultrasound as the "ultimate in efficient and contemporary dental cleaning".
Dr. Annick Urfels - paediatric dentist/University of Liège: "Therefore, it is beneficial that the emmi®-dent frees our teeth from biofilm and plaque without "scrubbing", as its simple application shows that it makes the teeth feel smoother, and even after about 2 weeks there is no more bleeding gums."
Dr. Alexander May - Dentist: "The emmi®-dent leads to a significant reduction in gingivitis and prevents completely abrasive brushing movements. This eliminates the risk of abrasion damage to teeth and gums."
Ultra-clean thanks to ultrasound: the advantages of the emmi®-dent ultrasonic toothbrush
With the emmi®-dent ultrasonic toothbrush, you can fight periodontitis, gingivitis and aphthae. The effectiveness has been proven by various studies. Brushing your teeth twice a day significantly reduces the number of bacteria in your mouth. This also ensures long-lasting fresh breath. The simple use of the ultrasonic toothbrush is also particularly suitable for children and people with motor challenges. Even wearers of braces, bridges, implants or crowns can finally breathe a sigh of relief, because the ultrasonic method reliably cleans right into the smallest spaces. In addition, this toothbrush, in combination with a special ultrasonic toothpaste, gradually brings back the natural colour of your teeth. The smallest discolourations caused by coffee, tea, wine or nicotine are removed and you get your white smile back

What are the advantages of gentle micro-cleaning with the emmi®-dent ultrasonic toothbrush?
The gentle micro-cleaning of the ultrasonic toothbrush revolutionises tooth brushing. The almost contact-free ultrasonic technology prevents the application of too much pressure. Dental care using ultrasound does away with the need for strenuous brushing back and forth. Brushing your teeth without scrubbing is the motto here!
Despite its gentle mode of operation, the emmi®-dent ultrasonic toothbrush cleans even hard-to-reach areas in the oral cavity. Bacterial plaque is removed right into the smallest interstices. But that's not all: the emmi®-dent convinces with further plus points. The ultrasound reduces bacteria up to twelve millimetres deep in the tissue, promotes blood circulation in the oral mucosa and releases body energies.
Furthermore, the ultrasound has a cosmetic effect: discolourations caused by wine, nicotine or special foods are gradually lightened - and in a particularly gentle way. You can intensify this effect by additionally using emmi®-dent whitening ultrasonic toothpaste. Please bear in mind that whitening toothpastes should never be used exclusively. We recommend using whitening toothpastes 2 - 3 times a week as an additional toothpaste. This applies to all whitening toothpastes.
How to use the emmi®-dent ultrasonic toothbrush?
The specific mode of operation of the ultrasonic toothbrush influences its use. Conventional toothbrushes are moved over the rows of teeth and are always in contact with the teeth. Our sophisticated ultrasonic technology works almost contact-free. Simply move the brush head lightly over the teeth. In addition to the ultrasonic toothbrush, use a special ultrasonic toothpaste. 75 millilitres is enough for about four weeks of use.
The bristles of the emmi®-dent usually cover two to three teeth. After a short stop - usually six seconds is enough - move the ultrasonic toothbrush to the next teeth. With all emmi®-dent models (except emmi®-dent Platinum Care - works completely noiselessly and vibration-free), you receive a haptic and acoustic signal to move to the next tooth/teeth. Repeat this process until all teeth are cleaned. In case of heavy soiling or discolouration, a longer cleaning time is recommended. As with all other toothbrushes, brushing should take at least three minutes. After the cleaning process, it is recommended to wipe the loosened dirt away from the gums, off the teeth and rinse with water.
Can emmi-pet toothpaste also be used for humans?
use?

emmi-pet is an ultrasonic toothbrush that has been specially developed for the pet sector to support dental care in dogs. The emmi-pet toothpaste is therefore specially developed for use on dogs. It has been adapted so that dogs can swallow this toothpaste without any problems. However, emmi-pet toothpaste is not exclusively limited to dogs.
Safe to use for humans:
The toothpaste from emmi-pet can also be used safely by humans. The formulation of the toothpaste has been adjusted to ensure that it is safe for human use. The apple flavouring used in the toothpaste is also ideal for humans and provides a neutral taste - not chicken.